Neutrik opticalCON® IP65 Coupler
An inline coupler, which enables two opticalCON DUO, QUAD or MTP cables to be joined together. They either contain singlemode or multimode fibres and are rated to IP65 when mated.
Singlemode APC, singlemode PC or multimode
FEATURES
The Neutrik range provides a range of benefits that make this option well suited for harsh environments and industries requiring temporary data connectivity.

SEALING SHUTTER
Automatic sealing shutter with silicone gasket for low maintenance.

IP65 RATED
Dirt, dust and water protection to IP65 in mated condition.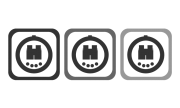 COLOURED INSERTS
Coloured inserts to identify fibre type. Blue for singlemode PC, green for singlemode APC and black for multimode.