Neutrik opticalCON® Chassis Connectors
The opticalCON system is based on LC-Duplex connectors but eliminates its weakness and guarantees a safe, dust protected and rugged connection.
The chassis connector acts as a "feed-through" allowing simplified installations by connecting conventional LC-Duplex, MTP or MPO fanout connectors on the rear. It is built in the standard D size shell and features an automatic sealing cover for maximum dust and dirt protection and a Push-Pull locking mechanism for safe connection.
2-24 channel fibre connection system
Part Numbers
| wdt_ID | Product Code | Connector Type | Fibre Count |
| --- | --- | --- | --- |
| 1 | NO2-4FDW-A | DUO | 2 Fibre |
| 2 | NO4FDW-A | QUAD | 4 Fibre |
| 4 | NO24FDW-A | MTP | 24 Fibre |
| 9 | NO12FDW-A | MTP | 12 Fibre |
Chassis Connector Types
DUO
Being compatible to conventional LC connectors the opticalCON DUO offers the choice of using cost effective LC cables or the rugged opticalCON cable assembly for mobile applications. The opticalCON DUO is the ideal solution for equipment connections and system integration offering LC compatibility on chassis connector front and rear.
QUAD
The opticalCON QUAD is based on the proven opticalCON DUO connection system but with 4 channels it is optimized for POINT-TO-POINT interconnections and multi-channel routing applications. The system copes with the increasing need for fiber optic channels. This chassis connector has black chromium plating and a front panel mount.
MTP12/24
The rear compatibility of opticalCON MTP® 12/24 connector fitting with standard MTP® 12/24 breakout cable allows easy adaptation to fibre standard connectors such as LC, SC, ST. The approved dust shutter ensures high mating cycles and minimal maintenance.

FEATURES
The Neutrik range provides a range of benefits that make this option well suited for harsh environments and industries requiring temporary data connectivity.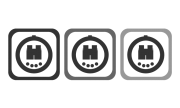 COLOUR CODED SEALS
To help identify fibre type. Black (multimode), green (singlemode PC), blue (singlemode APC)

SEALING SHUTTER
Designed as feedthrough with automatic sealing shutter to protect from dust and dirt

IP65 RATED
Dirt, dust and water protection to IP65 in mated condition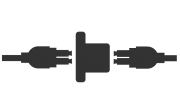 SIMPLE CONNECTIVITY
Can use standard duplex LC/MTP/MPO fanout cable on the front and rear for cost effective, simple connectivity