Micro Armoured Fibre Patch Cables
Universal Networks Armoured Fibre patch cables deliver a robust, reliable, and flexible cable that is ideal for harsh environments and demanding applications. This compact cable that takes up almost half the space of a standard duplex patch cable, yet despite this it is many times tougher. Being round in cross section, it is easy to route in confined areas, as it will bend in any direction without twisting. The armour provides added protection against kinking, accidental damage and even rodents, if they are a concern. This robustness makes these cables ideal for a wide variety of uses; patching in semi exposed areas such factories, sub stations, warehouses; inter comms rack links; CCTV and outdoor patching for temporary events. Their compactness also suits high density patching.
The layer of armour is great for mechanical protection and being a flexible braid and helical tape, it bends easily when the cable is flexed and does not have memory. This makes routing and laying of cable far easier than flat or more rigid cables.
Multimode OM3 or singlemode OS1/2 options

COMPACT CABLE
4mm compact cable, takes up almost half the space of a standard duplex patch cable.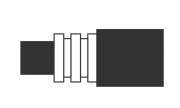 ARMOURED CONSTRUCTION
Stainless steel tube and metal braid under outer PU jacket.

UK MANUFACTURED
Custom made to order in the UK in any length with individual test report for insertion loss included.

CRUSH RESISTANCE
Excellent crush and kink resistance.