Ruggedised double sheathed flat twin fibre patch cables, provide a more robust alternative to standard patch cables and are recommended for patching where frequent handling is required, or for internal runs that require a stiffer, more rugged cable. Consisting of two simplex semi-tight buffered cables surrounded by aramid yarn, encased in an additional LSZH sheath for extra rigidity and protection.
They offer good protection against kinking and crushing, which are two of the most common issues faced when installing cables. Despite the additional durability, the cable is still flexible and very compact.
Multimode OM1, OM2, OM3 & OM4

UK MANUFACTURED
Custom made to order in the UK, in any length.

TEST RESULTS INCLUDED
All cables shipped with individual test report for insertion loss.

LOW SMOKE CABLES
Low Smoke Zero Halogen (LSZH) outer sheath.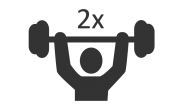 TOUGH CABLES
Twice as tough as standard duplex patch cables.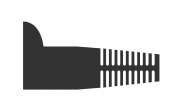 STRAIN RELIEF BOOTS
Includes strain relief boots.

CRUSH & KINK RESISTANT
Flexible and compact cable, resistant to kinks and crushing.