Our engineers will install the fibre cabling following best practices to ensure optimum cable performance is achieved, whether in ducts, up risers, suspended aerially or direct buried.
Termination
This can be for the cables we install or installed by others. Usually we will fusion splice but can also direct terminate connectors. The most popular options are LC, ST and SC, but we can terminate with any PC/APC connector.
Typically these are presented in a fibre distribution (rack or wall mounted) unit ready for patching into active equipment.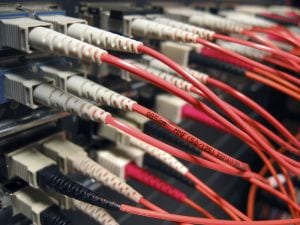 Testing & Certification
All installations are tested with Fluke testers in both directions and test results are provided. For warranted cabling systems eg Brand Rex, Excel, Hellerman Tyton, a 25 year Certificate is provided.
Fault Finding/Testing
If a client wishes to know if an existing fibre network is useable, we attend site to test and report on all installed fibre optic cables. Polish/re-termination of any failing connectors can be provided at the same time. For more serious issues eg a break in the cable, this can be indentified and a quote to fix it will be provided.
What is a typical process for a project?
1. Site Survey
This is essential to understand the scope of the work so that we can provide an accurate cost before acceptance of the project in given. During this meeting requirements are confirmed, routes are verified, serviceability of ducts explored, performance requirements, design options, timeframes and other important client needs are discussed.
2. Written Quotation / Acceptance
Following the site survey, a written quotation is provided and options or alternative recommendations are provided. The details are discussed and changes made if necessary, before the client confirms acceptance with an order
3. Scheduling of the Work
Start and End dates are confirmed, access or working times (can be office hours or out of hours depending on the clients requirements). Contact details are recorded.
4. Project Manager assigned
It's our aim to finish on time with the minimum disruption allowing work to go on as usual. A Project Manager is assigned to ensure the project stays on track, and is the main point of contact for the duration of the project
5. Test & Completion
Following completion of the work and successful testing, the project is signed off by the client.