Neutrik opticalCON® Breakout Box
The breakout boxes are used to split 4 channel QUAD or 12 channel MTP point-to-point connections into 2 or 4 channel connections using DUO or QUAD connectors respectively. In mated condition the boxes are dust and water resistant to IP65 rating. The closed boxes are protected according to IP67 rating.
The boxes can be used for monitoring, multiplex (send/return) signals, data/audio/video.
Colour Coded inserts for easy identification of fibre type:
Black inserts for multimode PC
Pre patched for easy installation (these can be easily changed)
Blue inserts for singlemode PC
Green inserts for singlemode APC
FEATURES
The Neutrik range provides a range of benefits that make this option well suited for harsh environments and industries requiring temporary data connectivity.

SEALING SHUTTER
Automatic sealing shutter with silicone gasket for low maintenance.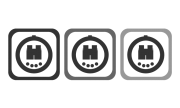 COLOUR CODED INSERTS
Black, blue and green inserts to identify fibre type

IP65 RATED
Dirt, dust and water protection to IP65 in mated condition.