This Cisco® GLC-EX-SMD Compatible 1000Base-EX Single-Mode SFP with DOM provides throughput up to 40km over single-mode fiber (SMF) using a wavelength of 1310nm via an LC connector. Extended Temperature Range -5°C to 85°C.
An easy to install, hot swappable transceiver that has been programmed, uniquely serialised and data-traffic and application tested to ensure that it will initialise and perform identically.
Digital optical monitoring (DOM) support is also present to allow access to real-time operating parameters. We offer a lifetime guarantee on our range of SFPs.

 TEMPERATURE RANGE
This device can operate in temperatures between -5°C and 85°C.

LIFETIME WARRANTY
We stand behind the quality of our products and proudly offer a limited lifetime warranty.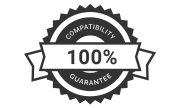 100% COMPATIBILITY GUARANTEE
This product is guaranteed to be 100% compatible with the equivalent Cisco® transceiver.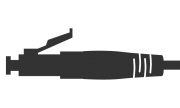 LC CONNECTORS
This product is compatible with LC connectors.

MAX CABLE DISTANCE
This product can be used with cables up to 40km in length.

MAX DATA
This product has a maximum data range of 1 gigabits per second.