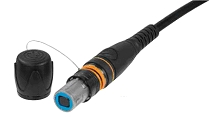 Neutrik has announced a 12 channel version of their opticalCON deployable cabling solution. Using the same size shell as used in the 2 and 4 core version, offering 12 fibres in such a compact assembly is quite an achievement.
The secret is using the very compact 12 way MTP/MPO connector, usually seen in high density, high performance data centre installations. As with the other variants, the fibres are protected from dust and water by spring loaded shutter, and the assembly is protected to IP65 when mated.
When used with the N012FDW bulkhead coupler, you can connect to existing equipment via LC, SC or ST by using one of our MTP fanout cables. This assembly is available with standard MIL-TAC or armoured deployable cable for use in the harshest environments.  For costs or if you have any questions please call us; products will be added to the web site next month.