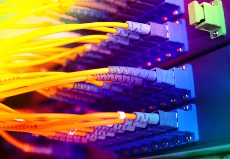 A recurring question we get at Universal is how far can you go with sending Gigabit over multimode fibre cable. There is a lot of confusion which is understandable as there is a lot of conflicting information on the internet; we are here to make sense of it all!
According to Wikipedia, Cisco, HP, Allied Telesis and most other manufacturers, their 1000Base-SX (the standard for GbE over Multimode fibre) Transceivers, GBIC's and SFP's will drive up to 550m (on 500Mhz/km cable ie OM2). But this is very inaccurate, with the right cable, you can go a lot further than this.
The issue seems to be that the manufacturers are still quoting distances that were possible when OM2 was the top performing cable. Multimode manufacturing techniques and standards have come a long way since then.
The goods news is that by using OM3 or OM4 'laser optimised' multimode fibre you can use the standard SX optical transceiver and go up to twice this distance. Plus they support greater distances with 10, 40 and 100Gbps too.
Click here to see a handy table which shows the distances for different types of fibre and bandwidths
Or call us and we can chat through your needs and advise – 01488 685800