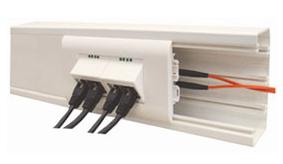 As well as offering an array of pre made cabling products, Universal Networks also provide an on-site copper and fibre optic installation service. Whilst many companies have a fibre backbone with copper out to the desk, few consider taking fibre any further.  You may be surprised to know it can be less costly to install fibre to the desktop than the equivalent high performance copper.
With fibre optics to the user you can benefit from greater bandwidth meaning your network will be future-proofed for far longer.
You may find our guide on Fibre to the Desk helpful.