HARSH ENVIRONMENT FIBRE OPTIC CONNECTORS
There are many rugged fibre optic connectors available for harsh environments, these can broadly be split into two groups; Physical Contact and Expanded Beam connectors.  Physical Contact use a ferule in a ruggedised casing and provide the lowest insertion loss but can be vulnerable to dirt contamination.  Expanded Beam lessens the contamination risk but has a higher insertion loss (see below for more details on EB).
Who needs ruggedised fibre connectors?
Some of the typical applications for rugged fibre include:
Military tactical fibre communications systems
Live audio broadcast
Television outside broadcast (HDTV Fibre)
Mining control / communication systems
Offshore / Sub-sea systems
Mobile CCTV Systems (Security, Military, Police surveillance)
Seismic exploration
What is Expanded Beam?

By utilising advanced UK designed and manufactured Expanded Beam connectors, we are able to ensure the highest level of optical performance and availability/reliability for our tactical fibre optic cable assemblies.
A key advantage of this fibre connector design is that the fibres are protected from the elements and each other. Rather than the traditional butt joint which requires each fibre core to be precisely aligned (to within a micron), expanded beam employs a precision lens to optically expand the light from each core by approximately 40 times it's original size, and then refocus back into the mating connector.
A small gap is maintained between the lenses, this minimises the effect of dust, debris, temperature variation, vibration and dirt on the lights path. The lens also means it can be easily cleaned without risk of damaging the fibre – if a connector is dropped into mud, it can simply be washed or wiped and reconnected.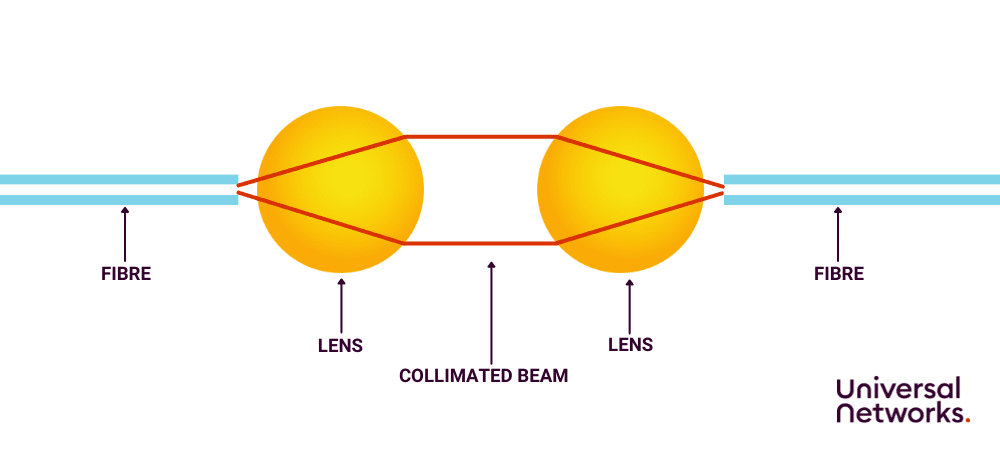 A lens ensures there is no physical contact between the fibres or the mating lenses, so no fragile alignment sleeves and recesses for dirt to accumulate. In summary it provides maximum reliability with the minimum of user intervention.
A typical tactical fibre optic cable systems consist of the following components:
1. The Fibre Connectors for Each End of the Assembly
The rugged connectors feature a hermaphroditic coupling, fully sealed shell and rubber covered grip ring and are maintenance free.
The hermaphroditic fibre connector design allows simple and quick deployment. If you need a longer length assembly you can simply daisy chain several reels of cable assemblies together.
Options include 1 to 16 optical channels in multimode and singlemode fibre types.
Hybrid assemblies are also available for increased flexibility, for example:
Multimode & Singlemode, Fibre & copper power
1, 2 & 4 way Fibre Plug
2. The Mil-Tac Fibre Optic Cable

The MIL spec cable we use for these assemblies is designed for harsh environments where repeated deployment and retrieval for reuse is needed. It's extremely strong, with a high crush resistance whilst remaining lightweight and flexible.
Tested and in use for military tactical fibre optic cable field applications, they are also suitable for petrochemical, mining and broadcast requirements.
Fibre Optic Cable
3. The Complete Assembly on a Deployable Reel
A variety of portable deployable reels are available to suit different lengths of fibre cable. These can be lightweight durable plastic or metal in construction, and have a hand carry handle or a frame and straps for back mounting.

Hand Carry Reel

4. Bulkhead + Tail assemblies
At each end of the cable assembly you will need to convert the expanded beam connector to a more traditional butt-joint connector such as SC, LC, ST, FC etc. For this we offer a bulkhead assembly with ruggedised tails or pigtails.
These can be mounted into a 19" panel (shown) or a bespoke arrangement, or be free ends (unmounted).
Bulkhead with LC Tails in Panel

Universal Networks has developed several ranges of fibre optic assemblies suitable for harsh environments, including deployable reels with rugged tactical or armoured cable, to provide extra protection against loss of connectivity from accidental damage.