ArmourLux F BEAM® Expanded Beam Connectors
The ArmourLux F BEAM® is our premium option for fibre optics in harsh environments. Utilising Expanded Beam technology, the connector is rugged, can be easily cleaned and being hermaphroditic, is simple and easy to connect.
F BEAM is a UK designed and manufactured connector which has been developed over the years to deliver class leading optical performance. It is fully interoperable with other HMA Junior products from TE, Stratos and others.
2 or 4 channel fibre multimode and singlemode
Hermaphroditic
HMA Junior compatible
IP68 rated
FEATURES
The ArmourLux F BEAM range provides a number of benefits that make this option suitable for the harshest of environments.

EASY CLEAN EASY CONNECT
 Lens technology allows for an easy clean and connect.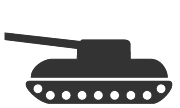 MILITARY GRADE 
Military grade F BEAM® connector designed to meet MIL83526 / MIL20/ MIL21.

UK MANUFACTURED
Products manufactured in the UK and individually serialised for traceability.

PORTABLE REEL
Includes portable, deployable reel with 3rd flange and friction brake.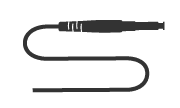 BEND INSENSITIVE
Bend insensitive Military grade tactical fibre, designed for harsh environments.

WIDE OPERATING TEMP
Cable operating temperature ranges from -55°C to +85°C.
Why ArmourLux with F BEAM®?
The most Reliable Fibre Connection
The F BEAM® connector is an Expanded Beam connector that utilises Advanced Alignment Technology. Expanded Beam lessens the contamination risk associated with physical contact connectors so is suited to the most rugged and demanding of applications.
A key advantage of this fibre connector design is that the fibres are protected from the elements and each other. Rather than the traditional butt joint which requires each fibre core to be precisely aligned (to within a micron), expanded beam employs a precision lens to optically expand the light from each core by approximately 40 times its original size, and then refocus back into the mating connector.
A small gap is maintained between the lenses, this minimises the effect of dust, debris, temperature variation, vibration and dirt on the lights path. The lens also means it can be easily cleaned without risk of damaging the fibre – if a connector is dropped into mud, it can simply be washed or wiped and reconnected.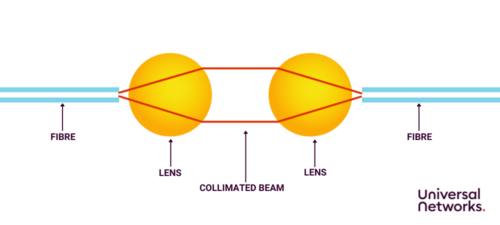 As the lens magnifies the light from the fibre cable (potentially from just 9 microns) accurate alignment of the lens and the fibre is critical to a high-performance connection. Much of the development of the F BEAM has been in this area, enabling insertion losses to be class-leading.
IP68 rated for peace of mind
The F BEAM connector has been tested to an immersion depth of 15m operational (EN 61300-2-45) and is IP68 standard.  You can read more about IP ratings here.
Greater reliability in harsh environments
The ArmourLux range uses a tough, durable Miltac cable that tightly packs bend insensitive fibres in aramid yarn, ensuring minimal signal loss even if accidentally kinked.
The reassurance you deserve
All ArmourLux assemblies are made in the UK. We're also an ISO9001 and JOSCAR accredited company, where quality and customer service are our highest priorities. With over 25 years' experience as a trusted provider of fibre optic cables, you can be reassured we understand the requirements of mobile fibre optic communications.
As standard we offer Schill reels (these are included in the cost); we can also supply the assemblies on alternative Schill reel options as well as other brands such as OCC MARS – please contact us to discuss your requirements.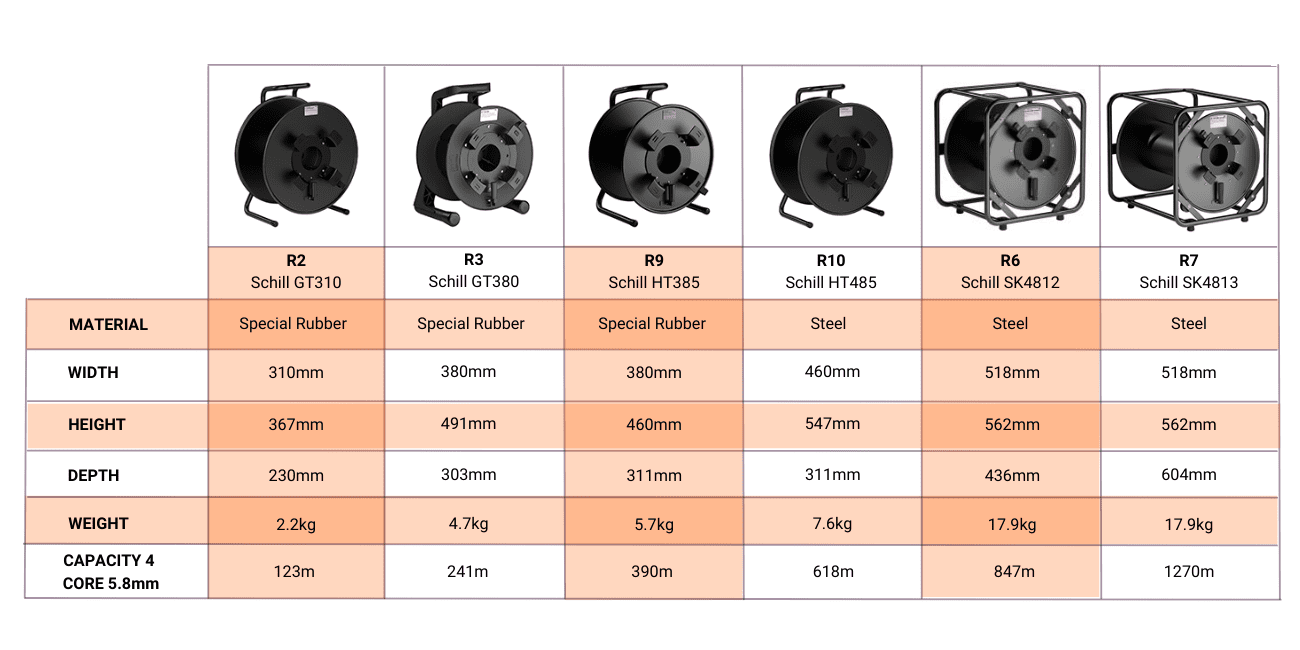 OPTIONAL REELS
We can supply our assemblies on many different reels type depending on your preferences. Some examples are below: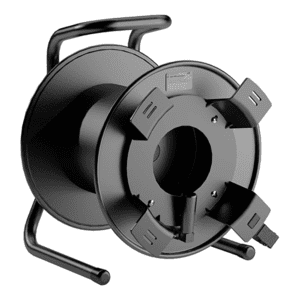 Small Metal Reels (Schill HT305 shown)
A robust alternative to the standard GT plastic reels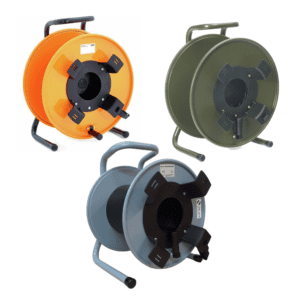 Coloured Metal Reels (HT 380-ORANGE, NATO Green & RAL6014 NAVY GREY shown)
Examples of others: RAL6014 Olive
OCC MARS Reels
Lightweight & durable range available in Black, Destert Tan, Carc Green