ISO Quality Standard Accreditation
The ISO Quality Standard has been an integral part of Universal Networks for over a decade. It has provided a framework for consistent, excellent customer service from all employees as well as drive continual improvement.  We first attained ISO9001:2008 certification in November 2007 and ten years later, we were one of the first IT companies to transition to ISO9001:2015.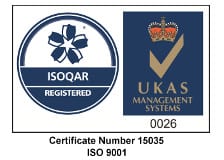 Minimising our environmental impact
We're dedicated to operating in an environmentally responsible manner and minimising the impact our business operations have on the environment.
Through recycling, improving energy efficiency & consumption, goods transport and travelling, we have found ways to reduce our footprint.
Each year our impact is audited.  This involves analysing the carbon footprint of the company as well as identifying ways to reduce CO2 emissions.  We were very pleased to be awarded with a neutralcarbonzone® accreditation which is an internationally recognised status and one which highlights our commitment to managing our environmental impact.