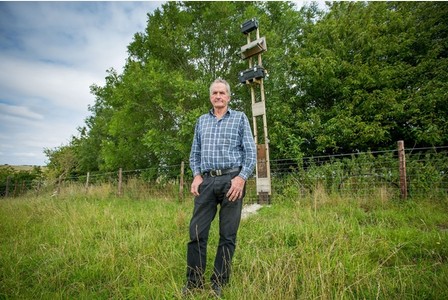 We're always interested to see how our cables have been used by customers, particularly when its for a project with a bit of a difference…
Richard Guy who lives in a remote part of Salisbury in Wiltshire was so fed up with slow internet connection that he took matters into his own hands and built his own signal mast.
As reported by the BBC, Richard constructed his own wooden telephone mast, with a 4G dongle (adaptor) inside a waterproof toolbox. Solar panels charge a 12v battery which provides power to the dongle and a copper to fibre media converter. The converter is needed to extend the limited range of Ethernet over Copper, and for this particular installation a 1100m pre-terminated armoured fibre cable (supplied by Universal Networks) was laid to carry the internet right to Richards home.
Richard now benefits from speeds of between 45Mbps and 69Mbps, compared to the 1Mbps he used to get.
In an effort to help other farmers and estate owners in rural locations, Richard has started his own company called Agri-Broadband, which aims to bring faster broadband to other homes and businesses in rural areas.
A wonderfully unique and entrepreneurial solution to unbearably slow internet!
Products used:
Universal recommended an armoured pre-term fibre cable for Richard, this is both suitable for direct burial and is rodent proof, a key quality considering the rural location.  Pre installed and tested with fibre connectors, it simply requires connecting up once installed, avoiding the cost and time needed for on site terminations.
Richard also used a pair of media converters to convert the copper Ethernet dongle to multimode fibre, allowing the connection distance to be extended from 100m to up to 2km.