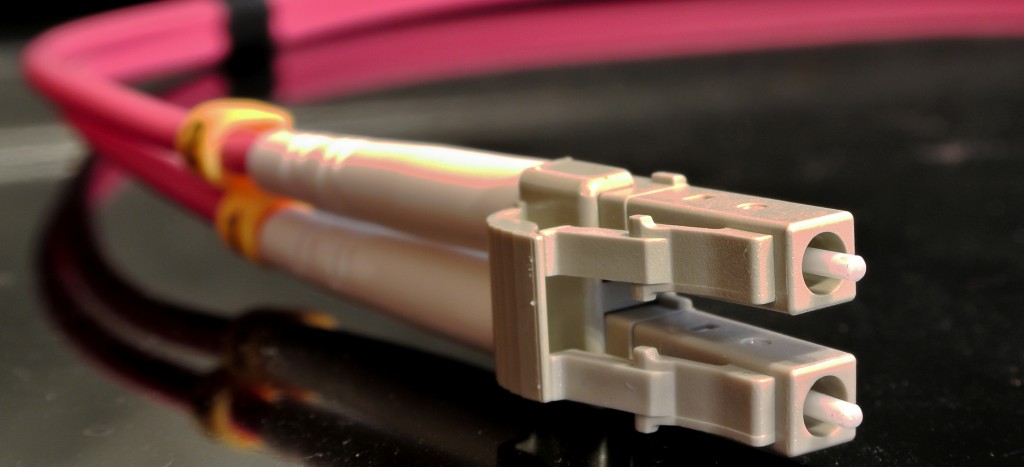 What is OM4 Cabling?
OM4 is the latest and most advanced of the multimode cabling options. It has similarities with OM3 – they both have a 50µm fibre core and are laser-optimised – but supports greater distances at high speeds.  The 10GbE range goes up from 300m to 500m, the 40GbE and 100GbE increase from 100m to 150m.  Importantly, you can use exactly the same multimode transceivers to get this extra performance so there is little extra investment needed.  For many, the extended range will be enough to avoid having to install singlemode fibre which requires more expensive transceivers.
OM4 is particularly well suited to shorter reach data centres and high performance computing applications with tight optical loss budgets.
When do you need OM4?
If you are approaching the distance limits of other types of fibre (OM3, OM2 etc), then OM4 can provide headroom to protect against losses from lower quality terminations, splices or tight cable bends
If your cable run is 300-500m only OM4 will support 10GbE
If your cable run is 100-150m, only OM4 will support 40GbE / 100GbE
You wish to future proof your cabling infrastructure for higher speed Ethernet and Fibre Channel communications
What are the benefits of OM4?
It is compatible with standard multimode transceivers therefore keeping hardware costs to a minimum
Extends the reach for 40GbE and 100GbE standards avoiding the necessity to upgrade to singlemode
OM4 is completely backward compatible with existing OM3 and OM2 systems
The additional bandwidth and lower attenuation of OM4 provides additional insertion loss margin
The significantly higher bandwidth that OM4 offers, means its the most cost effective solution for short reach applications in data centres and LANs.
What next?
Call us on 01488 685800 to discuss your requirements with one of our experts or contact us at [email protected]
View our range of OM4 fibre cables:
Fibre patch cables             Bulk un-terminated fibre
Pre-term tight buffered      Pre-term MTP cables