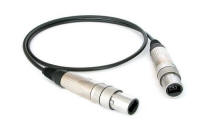 For some time we have looked for a fibre optic product that is rugged enough to withstand outdoor use, but uses industry standard connectors which our customers are familiar with. We have finally found what we are looking for with the opticalCON range manufactured by Swiss Company Neutrik.
Their product is based around a standard LC Connector, housed in an IP rated shuttered XLR shell which protects against dirt and dust which can impede performance. The cable is a very high spec MIL-TAC (Military-Tactical) cable designed to be tough yet very flexible, light weight and most important – can be re-spooled and deployed without damage to the fibre cores.
These cables come in 2 and 4 core versions, both multi and single mode and can be supplied with or without deployable reels. The bulkhead receptacles mount in standard XLR format knock outs.
Typical uses are any that require temporary fibre connectivity such as outside broadcast, exploration and military comms. The Neutrik range will be added to the web site over the coming weeks, but for now we can advise, quote and supply for your requirements over the phone or please fill in our contact form and we will call you straight back.