What is a fibre patch cable?
A fibre optic patch lead is a fibre optic cable which is pre-terminated with connectors at each end, enabling quick connectivity between equipment and / or termination boxes.  They vary from a low cost 'standard' stocked cable to a custom made, ruggedised waterproof cable designed for harsher environments.  But they all have one thing in common, they are pre made and tested and designed to be simply connected up.
How do I choose the right one?
There are three basic questions you need to consider:
1.  What type of fibre do I need (multimode or singlemode – this is explained further here)
2.  Which connectors do I require (see here for options)
3.  How rugged do I need it to be?  This last question is answered more fully below:
Standard or Ruggedised?
Stripped back, all fibre cables are similar, consisting of a tight buffered fibre cable with a core of 9, 50 or 62.5um. This is then encased in aramid yarn for protection and strength and covered in an outer jacket in the case of standard cables, but can be double jacketed, and even armoured for more durability.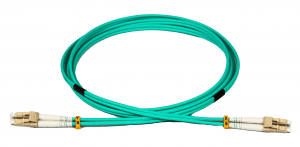 These are the most commonly used option and are primarily designed to be used in the protected environment of a rack, for example. These (2.8mm & 1.8mm) cables are lightweight, flexible and low cost. The 'zipped' name comes from the construction; two simplex cables are joined down the middle with a small amount of jacket  material. This is unzipped at each end where the connectors are, and can be further separated if needed.
They are stocked in many pre-made lengths & connector configurations ready for next day delivery, or custom made to any length you require.
Advantages:
LSZH (Low Smoke Zero Halogen) sheath as standard

Lightweight and flexible

Several colour and connector options

Great for patching in safe and secure environments
Technical Specification
Bend Radius       30mm
Dimensions        3mm x 6mm
Connectors         ST, SC, LC, FC, E2000
Fibres                   2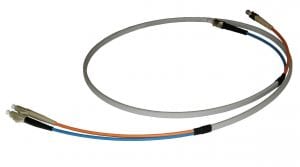 A Flat Twin cable consists of a pair of simplex fibre cables encased in a secondary LSZH jacket. This additional sheath effectively doubles the thickness of the jacket around the fibres providing additional robustness to the cable.
The additional sheath around the ruggedised cable helps to avoid kinking and pinching of the optical cable if the installation route is less that straight forward.
Advantages:
Lowest Cost ruggedised cable option

Quick manufacturing lead times

More rugged than standard patch cable

Less prone to kinking and damage
Technical Specification
Bend Radius       40mm
Dimensions        3.8mm x 6.6mm
Connectors         ST, SC, LC, FC
Fibres                   2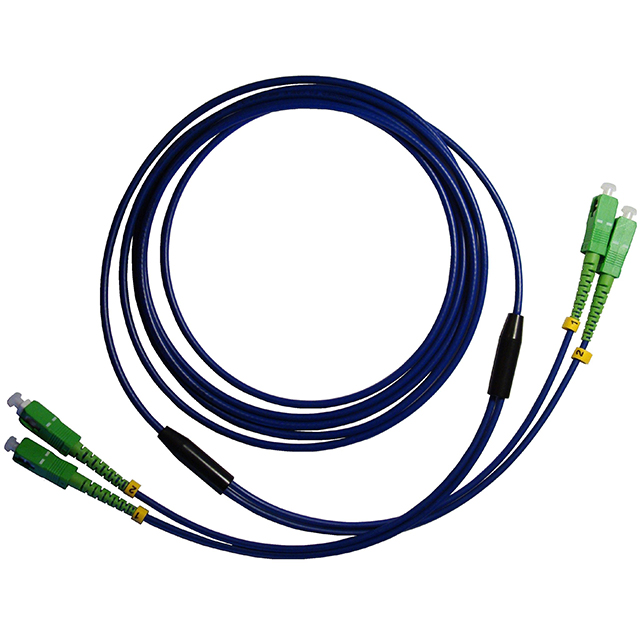 A stronger, compact cable armoured with a flexible steel tape and braid for superb crush resistance.
Constructed with a layer of helical metal tape, Kevlar and metal braid mesh they are very tough yet still flexible. Compared to Flat Twin, armoured patch cables offer superior protection against severing, pinching, kinking and rodents. Despite this, the cable is no larger than a standard patch cable and the round cross section of the cable allows flexing equally in all directions, aiding cable management and routing in tight places.
Advantages:
Round cable is the most compact option

         

Very high crush resistance whilst retaining flexibility

         

No thicker than standard patch cable
Technical Specification
Bend Radius       30mm
Dimensions        3.2mm
Connectors         ST, SC, LC, FC
Fibres                  2 & 4
Tactical Fibre for rugged and waterproof assemblies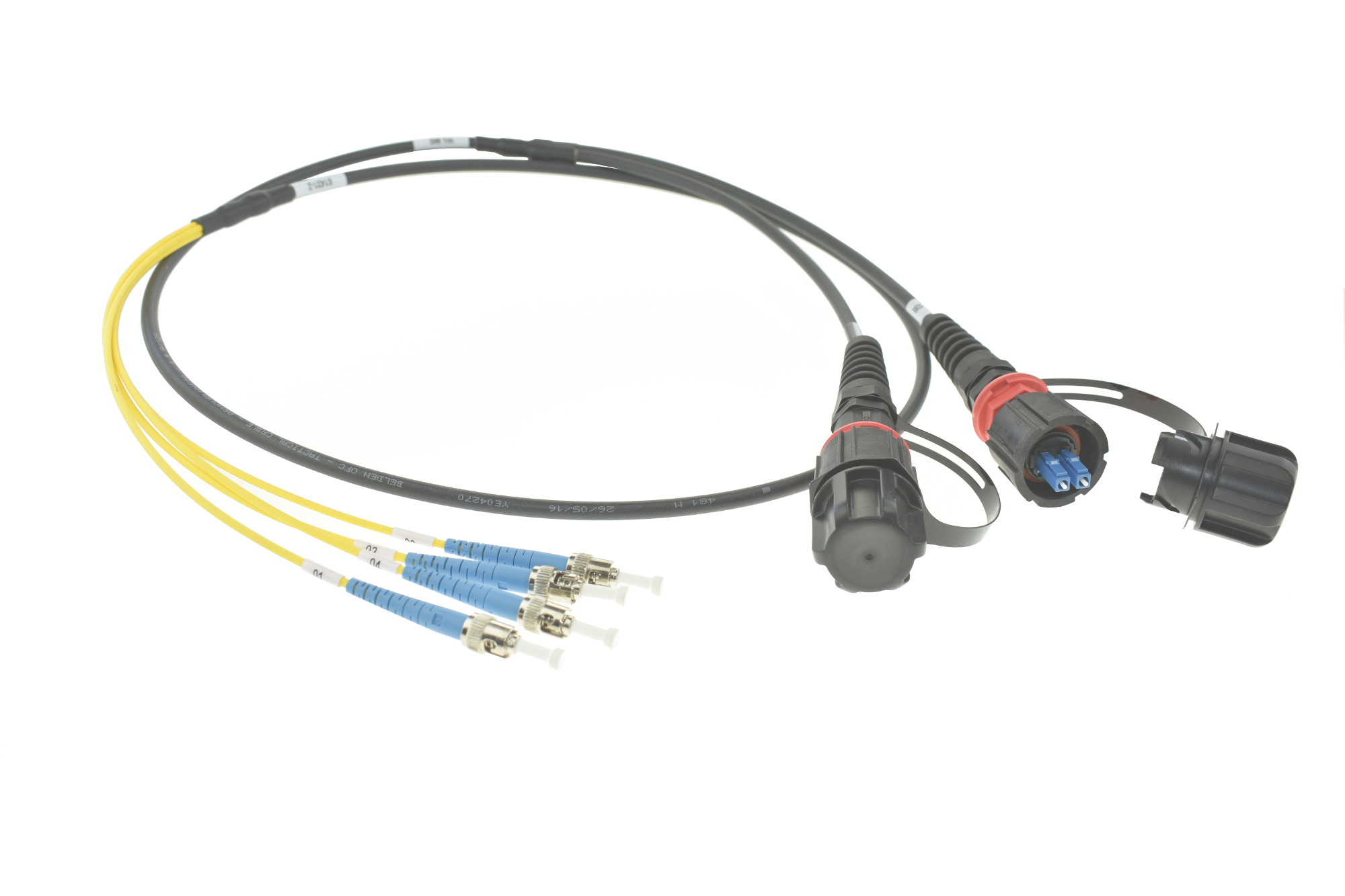 Tactical Fibre is a specially designed cable for temporary connections in harsh/semi harsh environments. 
It is designed to be resistant to water, chemicals, crushing, cuts and abrasions, tactical fibre can also, and most importantly, can be repeatedly deployed and coiled without compromising it's performance.
For applications where deploying is a necessity, this is the best cable to use. We have supplied these for use in the Broadcast, Oil and Gas Exploration, Mining and Military applications where it meets Military standards.
As well as being suitable for termination with standard connectors, this cable can also be presented in a number of rugged termination options; both butt joint and expanded beam.
Advantages:
Truly deployable cable

Meets Military specifications

Compact, flexible and light round cable

Standard & harsh environment connectors

Up to 24 core per cable
Technical Specification
Bend Radius       40mm – 68mm (2-24 core)
Dimensions        3mm – 8.5mm Ø (2-24 core)
Connectors        ST, SC, LC, FC. Ruggedised options include LC-MAX, IP-PRO, Expanded Beam, opticalCON.
Fibres                   2, 4, 6, 8, 12, 16 & 24
90% of stocked cables available for next day delivery
Universal Networks' fibre patch cables are available in a variety of lengths and colours, in multimode and singlemode, with a wide range of connectors to match all cabling and/or hardware needs.
We stock many common lengths and configurations, available for next day delivery. We also manufacture cables to order, so you can choose your own lengths, colours, connector and cable type.
Cables are available to be configured and ordered online.

         

All cables are individually tested after manufacture.

Free standard delivery on online orders over £100 (UK Mainland only)

Technical advice from our helpful team