EpicTech is a video production company established in January 2014, specialising in multi-camera productions for live webcasts and events as well as video production, event production and live streaming & production.
The company recently invested in a Blackmagic ATEM system with Canon LEGRIA cameras. The investment was needed to expand their capabilities to match that of a larger system, and they were recommended ArmourLux deployable fibre to use with the cameras. Ally Adams, Founder and Creative Director at EpicTech Media contacted Universal Networks and spoke to one of our experts. "Tracie was very helpful and knowledgeable, she knew exactly what we needed and also recommended suitable patch cables and patch panels to use. The ArmourLux cables arrived really quickly and have been used on a regular basis ever since!".
Why fibre?
Dan Harker Barnes, Technical Director at EpicTech had suggested they use fibre because it fulfils all their needs in one cable (two-way communication, video send and return feed, 2 audio channels, tally) and it's light and easy to use. They could have used standard copper cables, but far more cabling would have been required to match the capabilities, and in addition to this, a lot of their work incorporates outside broadcasting, and as such the ability to run a signal over long distances was key.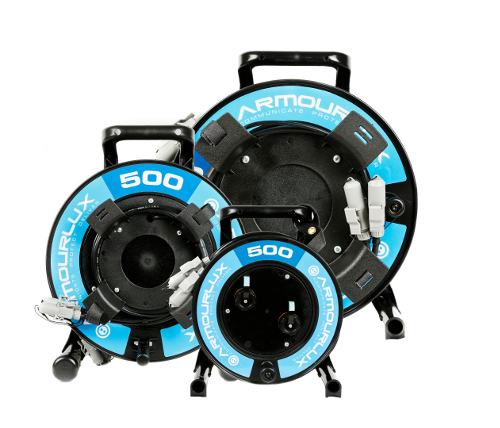 What are the cables like to use?
Ally's previous experience of working with fibre is that its delicate and easy to break and also found the connectors can break easily, so he was really impressed with the look of the ArmourLux connectors which are "very industrial looking, the word 'bullet proof' comes to mind. The cables are easy to run and very flexible, they've also stood up to everything thrown at them during rough outside shoots".
Having the fibre cable on a deployable reel means their set up time is reduced by over 75%. "In order to set up a camera position, we simply take the camera and tripod in a bag, and then run the cable back to the control room". This means the technical team can focus on the technical quality of the video rather than how multiple cables are routed, as well as keep to tighter deadlines and improve our profitability.
Would you recommend ArmourLux to other companies?
"Absolutely. If you're using the same kit we are, there is no better option than ArmourLux. We're not just impressed with the product but by the service we received. Tracie was instantly able to recommend ArmourLux as a suitable solution and we also found the product to be very price competitive, thank you Universal Networks!".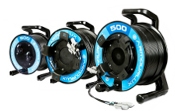 Read more about ArmourLux Portable Deployable Cables here.