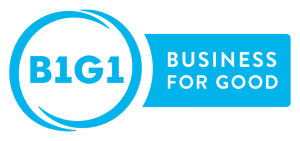 The idea behind B1G1 is simple, yet powerful. For every order a customer places with us, we also make a donation to one of the projects that B1G1 has set up. We started in October 2014 by providing a clean and hygienic water supply to children in a Kenyan Orphanage for a whole year. This covered the daily cost of installing a water supply.
Since then we've created an amazing 119,459 giving impacts including:
12,045 days worth of grain seeds to nourish children in Africa
375 days of medical support to children in need
630 days of medical support to HIV/AIDS-affected people
81 days of shelter and care to rescued animals
515 days of access to dental hygiene to people in need
21,635 days of access to life-saving clean water to families in Ethiopia
The scrolling banner highlights some of causes we have been able to make a real difference to, thanks to our customers and B1G1.
B1G1 gives us the opportunity to make real, tangible differences to peoples lives and we're looking forward to continuing the support for many years to come. A BIG thank you to our customers who have made this possible!