The PROCAT range of re-deployable copper cabling was developed following on from discussions with a customer in the aviation market. They were looking for an industrial spec Cat6a cable with a rugged connector, as the standard connectors they were currently using were being damaged when used in the busy factory environment.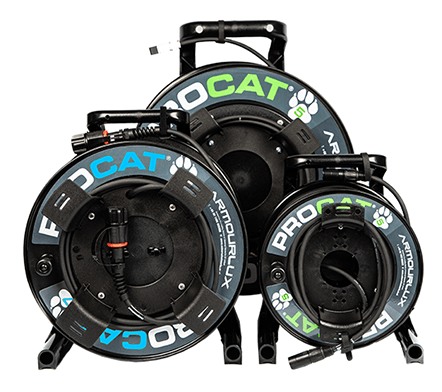 Another important element was EMI shielding, as the cabling was going to be used in a 'noisy' environment with potential for interference from other equipment.  Although the cables are double shielded with an overall braid and foil shield, we offered an optional termination enhancement of 360 degree shielding. This provides optimal shielding from RF interference.
The need for a re-deployable copper solution is a common requirement, as not all clients need the extended range that fibre optics provide. 
A ruggedised cable is important for any cable that is to be re-used, both for inside and outdoor applications.  For the latter, a wide operational temperate range may also be required; one of the initial projects PROCAT was used in, involved being in temperatures -35C°.
After considering different options for both the connectors and the cable itself, we developed the PROCAT range, with options for both Cat5e and Cat6a/7. The PROCAT7 is made with shielded cable for better EMI protection and optimal data transfer performance (the cable itself is Category 7) and is available with three different connector options:
DataTuff Industrial RJ45 plugs which offers up to 10GbE performance.
Neutrik etherCON connector with compact IP65 zinc diecast shell.
IP68 plugs for a water and dust proof mating
The PROCAT5 range is available with the same connector options, but using Belden up-jacketed unshielded CatSnake cabling.
Although initially developed for a customer in the Aviation sector, the rugged and flexible PROCAT range is ideal for audio/video, portable broadcast, Datacomms, Ethernet applications and any application that requires quick and easy deployment (and redeployment) in a harsh environment.
Trial the PROCAT7
If you have demanding applications we would love to have your feedback on the PROCAT7. To trial a PROCAT7 reel with DataTuff connectors, get in touch with us by emailing [email protected] or call us on 01488 685800.
View the PROCAT range
Take a look at the full PROCAT range here