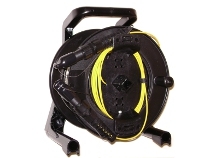 When you need to temporarily connect equipment over fibre cable, you don't always want the expense and bulk of a multi core or MIL-TAC cable, but you do need something tougher than a standard patch cable. This is where our mini armoured cable comes in.
At only 3mm diameter it is very compact, yet the flexible metal tube protects it against any incidents that would damage a standard cable. It's small size means we can get up to 300m on our smallest reel, which is just 235mm wide. Although the weight per metre is similar to standard tight buffered or MIL-TAC cable, the armoured cable is almost a third of the volume meaning a smaller reel can be used, so overall the solution is more compact and lighter for ease of carrying and storage.
For pricing and further information click here.