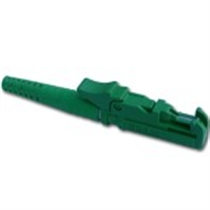 A common request we receive from our clients is to send spare ferule dust caps for their fibre cables, typically for those being used for temporary links.
We understand the problem, the dust caps are tiny you take them off just before you plug them into your equipment, pop them in your pocket and when you next retrieve the cables you're wearing different jeans and they are lost! The end faces then get contaminated or worse; scratched and then you have a defective connector.
We are working on solutions to help with this and several will be appearing on our website over the coming weeks.
One off the shelf option is to use the E2000 connector. This is a very high quality connector commonly used in the telecommunications sector but little known in other industries. The main benefit of the E2000 connector is a spring loaded shutter which protects the end face when decoupled, thus protecting against contamination or damage automatically.
We can terminate any type of cable we advertise with E2000′s – until these are added to our website please call for information and costs on 01488 685800 or fill in our contact form and we'll call you back