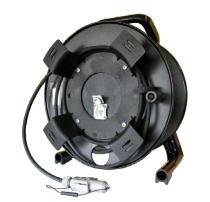 Deployable cat5e tactical cable is a copper solution that is a perfect fit for AV outdoor use such as festivals, sports events and outside broadcast. It is also suited to broadcast truck applications, in studios, for portable and professional AV use as well as temporary data links both indoors and outdoors.
Why? Well deployable cat5e tactical copper cable is a heavy duty UTP solution which offers exceptional outdoor performance, made from upjacketed Belden catsnake 1305a cable it is extremely rugged, damage resistant and flexible meaning it is built to last.
The cable also features bonded conductor pairs meaning that impedance and return loss performance is maintained even when flexing, coiling and handling compared to non-bonded pairs where manipulation of the cable causes gaps generating an impedance mismatch.
Universal Networks provide deployable Cat5e tactical copper cable pre-terminated with RJ45 sockets and plugs which are either standard or IP67 rated. However for outdoor applications, IP67 rated connectors are a must-have for our changeable British weather as they allow the cable assembly to be immersed in water up to 1m deep without ingress. The IP67 rated plugs also protect against dust contamination.
The cable is provided mounted on a portable cable reel with flange and handle for easy and quick deploy
ment and coiling of the cable so it can be used time and time again at different events, giving you an advantage of a resilient, flexible but also portable cable which is easy to carry around and transport.
See our range of Deployable Cat5e Tactical Cable
Read more on our downloadable product specification (.pdf)