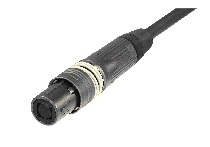 Universal Networks is pleased to announce the introduction of the Neutrik opticalCON range to our catalogue of fibre solutions making us one of (if not the) premier supplier of fibre optics within the UK!
The below ranges can now be purchased through our website but as ever if you need some help or advice on the right solution please give one of knowledgeable sales team a call on 0844 846 0440:
DUO 2 fibre MIL-TAC 
DUO 2 fibre X-TREME 
QUAD 4 fibre MIL-TAC
QUAD 4 fibre X-TREME 
QUAD TRIPLE SPLIT 12 fibre 
In 2005 Neutrik launched OpticalCON  starting with the DUO 2 fibre cable to offer a simple and reliable solution to a problem that had occurred with the adoption of fibre optics within the professional audio, broadcast and touring/rental industries. Within these industries there was an attempt to adapt fibre optic connectors used in the data comms and computer industries and this presented a problem as the existing connector types were not designed for rough handling which may occur in outside broadcast environments or in applications where a high number of mating cycles are required.
Since its launch the opticalCON fibre optic range has widely been accepted as an industry standard within the audio and broadcast industries and is a perfect solution for the demands of other industries that require portable, deployable fibre optic cables.  The opticalCON range is based on a LC-duplex connector whilst overcoming the connector's weakness to offer a safe, dust-protected and ruggedised connection with the added advantage of being compatible with a conventional LC connector.
The opticalCON range is available in DUO (2 fibre), QUAD (4 fibre) and TRIPLE SPLIT (12 fibre) options with either MIL-TAC cable (lightweight, flexible but very tough military grade cable for hard environments and portable applications) or the X-TREME version (the most reliable solution – cut and rodent resistant with a double jacket with glass yarn armouring). For applications where higher levels of connectivity are required the TRIPLE-SPLIT option is a perfect fit, offering a 12 core single or multimode cable presenting as three QUAD LC connectors on each end.
Benefits of the OpticalCON System:
A ruggedised and dirt protected fibre optic connection system
Cable connectors feature a rugged all-metal housing for heavy duty cable retention
Automatic sealing shutter with a silicone gasket
Dust and water resistant according to IP65 standards in its mated condition
Accommodates standard optical LC-Duplex connectors
Field Repairable Easy to clean, no specialist tools required
Reliable push-pull locking mechanism