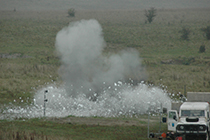 When running cables across an area where ordnance and explosives are tested and measured, the biggest risk is shrapnel which can cut through a cable with ease.
One way to reduce this risk is to use a heavily armoured cable, but this has the disadvantage of being both heavy and expensive, whilst still not being a guarantee against damage.  Furthermore, these cables which link two fibre optic media converters together, have to be retrieved each day.
For the best balance of protection, portability and cost our micro armoured cable was chosen.  This is presented on a deployable cable reel with a carry and winding handle.  The armouring of the cable offers better mechanical and kink protection, but is still flexible and light – a 200m cable with a reel weighs less than 5kg all in.  This makes deploying, retrieving and storage an easy proposition.
For more information click here to see our Micro Armoured Deployable Cables section on our web site.
By Eddie Hing