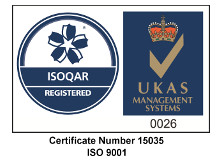 Berkshire based Universal Networks has announced that it has become certified in meeting the new international Quality Management Standard ISO 9001:2015, and is leading the way within the sector to achieve the new standard.
The independent assessment was conducted by Alcumus ISOQAR, a UKAS Accredited Certification body, and firmly establishes Universal Networks as a leading player in its field for customer service and quality in delivery.
Managing Director at Universal Networks, Eddie Hing, commented: "Adopting this international standard is a strategic decision for Universal Networks and will secure our future as a premium provider. This certification confirms to our customers that we continue to be fully committed to quality improvement and providing reliable and consistent solutions and services to support their growth and success."
Stepping Stones for Business Ltd, the Quality & Safety Consultancy based in Oxfordshire, supported Universal Networks in achieving their certification.  Managing Director, Rebecca Russell, commented: "A significant amount of work was required to transition to the new standard, and to have achieved it without any non-conformities or observations at the audit is an outstanding result for Universal Networks. Our congratulations to Eddie and the Universal Networks team".
About ISO 9001:2015
The ISO 9001 standard requires organisations to demonstrate that they have risk based quality management systems in place that ensure consistency and improvement, assuring customer of high levels of performance and satisfaction. Certified organisations are committed to continuous improvement and are independently assessed annually to ensure that progress is being maintained.
The new 2015 standard, introduced only in September last year, has evolved to meet the needs of a more technology driven world with increasingly complex global supply chains, and focuses more on addressing business risk and process improvement, and less on documentation. After September 2018, certification to the ISO 9001:2008 will no longer be valid.