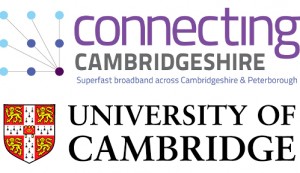 Free Wi-Fi during Tour de France Stage 3
On the 23rd of June 2014, a free public wireless service was launched in Cambridge by a partnership between the local authority and Cambridge University. This year long trial was scheduled to be ready for the third stage of the Tour de France which was due to pass through the City in July.
The University's high speed wireless access project (in collaboration with the Connecting Cambridgeshire initiative, Cambridge City Council and their suppliers) was focussing on providing roaming wireless access across public spaces in the Cambridge metropolitan area. The goal was to enhance the wireless experience for students and the public alike.
The goal of the Connecting Cambridgeshire initiative was to roll out superfast broadband to over 90,000 homes and businesses across Cambridge and Peterborough. This would make Cambridgeshire one of the best connected counties in the UK by the end of 2015.
The challenge
The city council had a programme of putting up a series of lamp posts in local green spaces to enhance night-time safety. This enabled the University, with the help of suppliers DW Windsor, AV Engineering and the Department of Engineering, to create a bespoke finial for housing wireless access points at the top of each the lamp post.
The lamp post mounted Aruba 275 & 175 series Access Points had a Gigabit Copper input. However, to meet distances and bandwidth needs, single mode fibre optic cabling infrastructure was required to network the lamp posts. Additionally, the Access Points (APs) required 30W of power. To avoid the provision of dedicated power at the top of a lamp post, the APs used Power over Ethernet. This allows the APs to use the existing mains power in the base of the lamp post via appropriate power convertors. Ideally, the University wanted a single device that could connect the Gigabit Ethernet Access Points to fibre while providing 30W of Power over Ethernet to the APs. This would save running separate cables to the APs and reduce the amount of equipment that needed to be housed in the lamp posts. The brief to provide a suitable solution was given to Universal Networks and Perle Systems.
The solution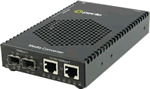 The Perle PoE+ Industrial Media Converter meet all three requirements.
The copper transceiver used in in the Media Converters provide the signal conversion technology necessary to connect the Gigabit Copper AP's to the single mode fibre cable.
Perle PoE Media Converters are classified as Power Sourcing Equipment (PSE) and function as PoE injectors to provide the IEEE 802.3at PoE+ standard 30W of power.
These devices also support an extended temperature range of -40C to +75C. This is important because the equipment would be exposed to wide temperature fluctuations when mounted either at the base of lamp posts or at the top within a weather proof IP67 enclosure.
Huge success
"We had them running a few weeks before the event and all went on the day with no hitches", said Nick Harwood of University of Cambridge Information Services. "We had external wireless access points in key locations and saw a peak of around 30,000 connections at the height of the Tour de France event. We are now planning to expand the wireless network into open spaces in collaboration with the City and County Councils as part of their Connecting Cambridge initiative."
Images courtesy of University of Cambridge at http://www.cam.ac.uk/for-staff/news/cambridge-academic-wi-fi-network-extends-to-public-spaces
Close up of lamp post containing Wi-Fi access point
Access point (white) next to specially-designed lamp post housing unit