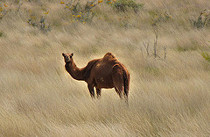 Fibre Optic is a sensitive creature – it doesn't like water, dust, or dirt. This is why it is ideally terminated in sterile conditions, and certainly not outdoors in a sand storm.
But that was what we had to deal with on this occasion.
Universal Networks was called upon to supply many km's of single mode fibre optic cabling for a project out in the Australian desert…and all the cabling had to be terminated on site. This presented the biggest challenge, as there was no shelter to work in and the fierce wind whipped up and deposited dust everywhere; not ideal when working with 9um fibre. Rigorous cleaning was required at every stage of handling the fibre.
In all 2 tonne of Brand Rex armoured cable, bespoke MilTac breakout assemblies, Corning splice enclosures, components (and engineers!), had to be shipped over to the other side of  the planet. Pre planning was meticulously done to ensure there were no omissions or errors and the project could be completed in the small amount of time available.
We are pleased to say we completed this remote installation in time and are eagerly awaiting the next challenge from this particular client…somewhere hot over winter would be nice, just not too hot!
You can contact us on 01488 685800 to discuss your next fibre optic project.
by Eddie Hing