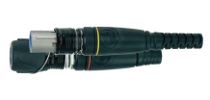 There are a few design changes to the opticalCON fibre cables that come into effect for all new orders. Gone are the options of shell material used, and in their place is a black chrome design which offers more protection from damage and it looks quite smart too.
The first big difference is the protective cap, the twist on rubber one has been replaced by a rubber coated metal design, which locks into place forming an IP65 rated seal. It uses the same locking mechanism that's used for mating with a bulkhead connector.
The body of the connector is now made using black chrome which replaces Ruthenium and Nickel, and this is now almost fully encased in a rubber coated boot which extends further along the cable, improving protection against kinking.
These are totally compatible with previous versions of opticalCON; the new design cap is also available as an option to be retrofitted.
There is a slight part number change and these have been updated on our web site part number generator. Revised images will follow soon.
Click here to see the range of products, costs and further information