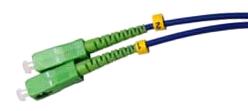 Traditional fibre optic cables are simply too delicate to survive the demands of harsher environments experienced when venturing beyond the confines of the data cabinet and server room.  What's needed is a durable kink and crush resistant equivalent to the standard 3mm patch cable; we have something even better.
Made from high quality components our armoured fibre optic cables consist of a fibre pair housed in a stainless steel tube with Kevlar, helical metal tape and metal braid mesh for additional protections contained within a LSZH outer-jacket.  The armouring of the fibres gives excellent resistance against kinking, crushing and rodents.
Despite the additional protection built into the cable it is still flexible and very compact with a diameter of just 3mm.  Importantly the cross section is round, so flexing is omni-directional making it easier to route and re-coiled if used for temporary links.  There is no other cable this compact that offer this degree of fibre protection.
We manufacture these cables within the UK to allow us to deliver to site in a reasonable time, furthermore we can also offer the cable terminated with a LC Uniboot connector (rather than a fibre breakout into two simplex tails) which is beneficial for environments such as high density data centres where space is scarce.
Our armoured cables are available in multimode (OM1, OM2 and OM3) and singlemode (OS1) with a range of popular connectors and made to desired lengths