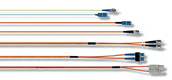 There are a few questions that our technical sales team here at Universal Networks are asked almost daily, being the helpful types that we are we thought reproducing them here may be of interest to those who are unfamiliar with fibre optic and copper cable (like myself when I started my role here!)
Question 1: What are the differences between the fibre types?
Answer: There are two types of fibre: Multimode (abbreviated to MM) and Singlemode (SM).Within the Multimode variety there are different ratified standards; OM1, OM2, OM3 and OM4.
Multimode can carry multiple light rays (or modes) at the same time by having varying optical properties at the core. The large core simplifies connections and takes advantage of lower cost LED and VCSEL technologies which operate in the 850nm window – to you and me this means you can use cheaper transceivers, SFPs and GBICs with MM cables.
Singlemode cables have a much smaller core size of 9 microns (compared to MM which has two sizes of 62.5 and 50 microns) and has only one light path meaning that the light can travel over much longer distances than multimode, up to 100km. The use of singlemode cables requires more expensive laser (as opposed to LED) equipment that operates in the 1310 to 1550nm range and so are typically used in longer distance LANs/WANs, cable TV and telephony applications.
Question 2: What are the distances achievable with different fibre types?
Answer: Have a look at our handy table below:

Take a look at our website FAQ on the subject for more information
Question 3: What do different fibre optic connectors look like?
Take a look at our FAQ on the subject here
Question 4: What are the differences between Tight Buffered, Loose Tube, Steel Wire Armoured and Corrugated Steel Tape Armoured Fibre?
Tight Buffered:
A popular compact cable option for internal fibre links and is suited to long vertical runs that can be terminated in any length and is available in 4 -24 core. Can be used externally if not submerged in water however we favour the Loose Tube option.
Loose Tube:
The standard option for outdoor applications, the fibres are suspended in a water-blocking gel which protects against both water ingress as well as the stress of temperature fluctuations. The cable can be installed into ducts prone to flooding and the LSZH sheath allows the cable to be routed internally.
Armoured Loose Tube:
Loose tube fibre is also available with a Corrugated Steel Tape armour (CSTA) meaning the cable has all the benefits of Loose Tube as listed above but also provides excellent mechanical and rodent protection. There is also a Steel Wire Armoured (SWA) option where the cable is more flexible and durable but heavier than the CSTA cable.
Armoured Tight Buffered:
We use this for our armoured patch cables, it is a flexible, robust and reliable cable ideal for harsh environments and demanding applications. The cables are more compact than a standard zipped patch cable and despite their armouring, they are very flexible
Question 5: What are the speeds and distances achievable with Copper categories?
Answer: Here is another handy table:

Do you have any burning questions our in house technical wizards can answer? Drop us a line on 0845 873 3285 or use our Online Contact form
Why not like us on Facebook or follow us on Twitter @undotcom