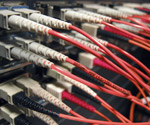 10GBase T is a standard that provides 10Gbit/s connections over unshielded or shielded twisted pair cable over distances of up to 100 metres.
Whilst you need to use Cat6a or Cat7 cable to reach the full distance potential, the goods news is that if your data centre already has Cat5e or Ca6 cabling installed, you may not need to upgrade just yet.
Distances: 
100m on Cat6a and Cat7 cable types
55m on Cat6 cable which is already deployed in many data centres
45m on Cat5e, the most commonly installed UTP cable types
Note: these distances are for solid core cabling, not standed as typically used in patch cables.
Another great feature of 10GBaseT is that it will auto negotiate to 1000Base-T, so a switch will conecct to 10Gbe and 1GbE devices, protecting your investment and allowing for gradual upgrades of connected devices. DAC, SFP+ and CX4 connectivity options all require 10GbE devices at both ends. Work against 10GBase-T, it uses more power than other options.