MTP®-MTP® Trunk Cabling
We offer several options to suit your MTP-MTP trunk cabling needs. Ranging from 12 to 144 fibres in one cable, available as compact single jacket 12/24 fibre (Lite trunk), double jacketed 12/24 fibre (Tuff Trunk) and indoor/outdoor 12-144 fibre (Multi Tuff Trunk).
All assemblies are made in the UK.
12 and 24 ferrule options
OS1/2 singlemode or OM3, OM4 multimode
Gender Options: Female-Female, Male-Male, Female-Male
For connection between distribution frames, panels and directly to certain transceivers.
Support 10/40/100G, Infiniband, Parallel Optics, FC
Fully compatible with MPO
FEATURES
The MTP-MTP trunk cable range offers a number of features that make it ideal for rapid deployment of single cable, high fibre count backbones presented in 1U of rack space.

MANUFACTURED IN THE UK
Products factory made in the UK with 100% interferometer testing.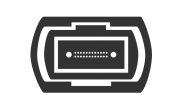 HIGH DENSITY CONNECTORS
High density, low loss 12/24 MTP® Elite connectors.

COMPACT CABLE
Compact LSZH cable, ranging from 3.2mm (Lite Trunk) to 5.4mm (Tuff trunk).

ALL DISTANCE CONNECTIONS
Lite Trunk recommended for distances of ≤10m and Tuff Trunk recommended for >10m.

INDOOR/OUTDOOR USE
Lite Trunk and Tuff Trunk options best suited to indoor applications, whilst Multi-Tuff trunk is suitable for indoor and outdoor use.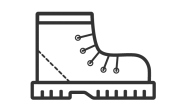 RUGGED DESIGN
Tuff Trunk cables feature a double jacketed design, providing a rugged connection whilst maintaining a compact size.
CABLE TYPES
The MTP-MTP trunk cable range offers several options from 12 to 144 fibres in one cable.
MTP® LITE TRUNK: Cable assemblies (12 & 24 fibres) are of a lightweight single jacket construction and have therefore been designed to optimise space saving of trunk patching. These compact cables have an outer diameter of just 3.2mm (12 fibres) or 3.8mm (24 fibres). As such, these cables are best used within a comms room or data suite environment.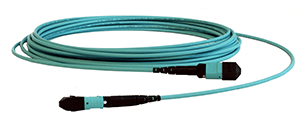 MTP® TUFF TRUNK: Cable assemblies (12 & 24 fibres) are of a robust double jacket construction making them ideal for longer length trunk patching. The provision of a second jacket provides the cable with an additional 500N of crush resistance to an overall total of 1000N. The cables retain their compactness with only 4.7mm outer diameter for 12 fibre and 5.4mm for the 24 fibre version. These cables are best suited for rugged patching purposes and providing links between comms rooms or data centres.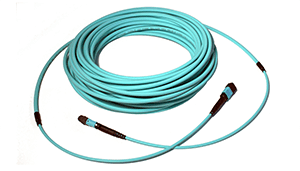 MTP® MULTI-TUFF TRUNK: Cable assemblies (12 – 144 fibres) offer exceptional fibre counts of up to 144 fibre, all contained within one robust trunk link assembly. The Multi-Tuff trunk is suitable for outdoor installations due to its water barrier feature. As such, it provides exceptional durability when compared to traditional MTP® trunk cable offering a crush resistance of 2000N and tensile strength in excess of 1500N. As standard, tails are shipped in a protective sock/tube which is removed after installation and features a 20mm gland. Suitable for internal and external applications, both temporary and permanent.